My husband and I have been wanting to purchase a paint sprayer for a long time. When I picked up a pine bed from Craigslist a couple weeks ago we figured it was the perfect opportunity to give it a try.
We already own an air compressor so we wanted a sprayer that would attach to it. We went with the Kobalt Small Gravity Feed Spray Gun from Lowes which had all the features we figured we would need for under $40.

While I was tempted to go with a bold color option after seeing some inspiring pieces on the Natty by Design Blog, I opted for white as I'm not sure where I will use this bed in the long term.  And white will always be easy to paint over if I decide to go with a brighter color in the future. Here is what the bed looked like when I purchased it.
We started by sanding everything down so the paint would have a good surface to stick to. Noah and Grandpa Randy both helped with this part.

Noah also made sure he was available in a convenient location at all times in case any questions came up.

After sanding, we set up a workspace in the front yard for spraying.  Scott handled this part since I am 28 weeks pregnant. We loaded the gun with approximately eight parts paint to one part paint thinner.  I used the same paint color as our trim on the lower level, Country Dairy from Behr in a glossy finish.  Scott began applying the paint in nice even strokes with consistent pressure. 

The paint was going on nicely but our air compressor wasn't giving us enough power.  We would get a minute or so of paint and then it would quit to build up more pressure.  We decided to rent a double tank compressor from the hardware store down the street to get the job done.

The extra power made it much easier and quicker to apply and the paint went on in a nice even coat.
After we sprayed each piece we set it out try dry.  We then lightly sanded it with a very fine piece of sandpaper and applied a second coat of paint.
When the bed dried and we removed it from the direct sunlight we noticed a couple streaks in the finish.  We are guessing it was due to the semi-gloss finish of the paint.  They were just some small inconsistencies, but we decided to apply a light final coat using a small roller brush to even everything out. That did the trick and we were thrilled with our results!
Not bad especially considering a very similar looking bed sells for $1200 at Crate and Barrel!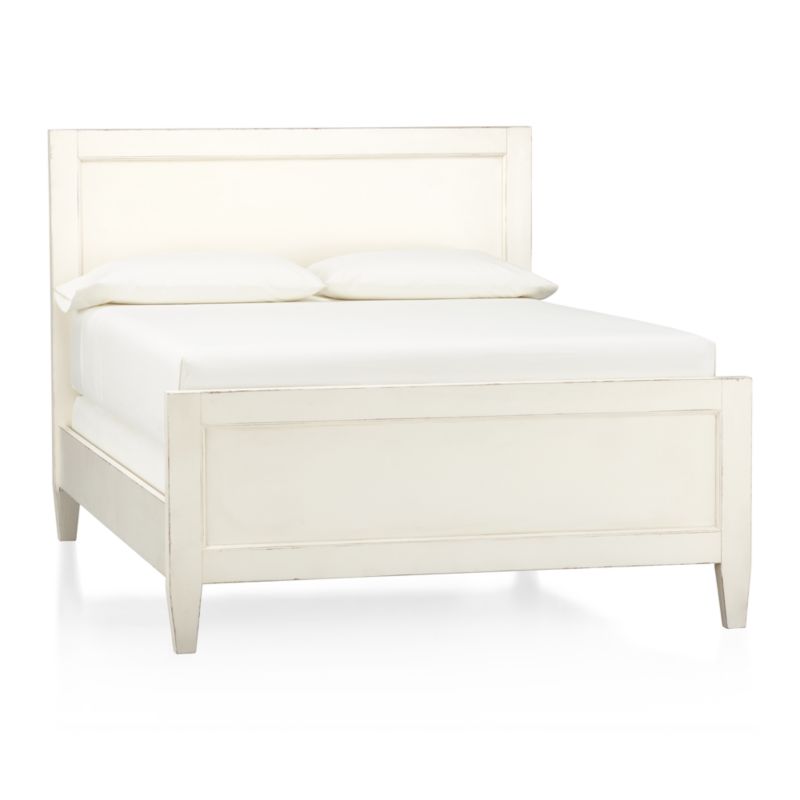 We still have some things to learn when it comes to paint spraying but we are happy with our purchase and excited to start on some more projects.  And stay tuned for more pictures and projects from my guest room remodel that the bed is pictured in!